Company Overview

J. K. Machines is a highly promising young business enterprise specializing in Spark Erosion Machine and Electric Discharge Machine (EDM). It was started in the year 2008 by a team of experienced technocrats having vast knowledge of the functioning and application of aforementioned products. These products are highly useful for application in the electrical and electronics industry for various purposes. The machines are meticulously designed and developed by company's qualified engineers who have extensive knowledge of these machines - from concept development to actual production. The company is known as a trusted manufacturer and supplier of Spark Erosion Machine and Electric Discharge Machine (EDM).

Apart from Spark Erosion Machine and Electric Discharge Machine (EDM), J.K. Machines also offer various other types of machines, tools and equipments including Machine Tools & Accessories, Tool Room Machines CNC Machines, Testing & Measuring Equipment, Cutting Tools & Accessories, Industrial Machinery, Production Machines, Jewellery Making Tools & Machinery, Footwear Machinery, Woodworking Machinery, and Plastic Processing Machinery. All these range of machinery and equipment is fabricated with great attention to design, raw materials used, functionality and efficiency, and are extremely useful for application in tool room machines, plastic, engineering, electronics and electrical industries.

J.K. Machines is also known as an exporter and importer. Its export markets are the neighbouring countries and import markets are China and Taiwan. The organization was incorporated with an aim to come up with the most innovative and high-tech range of machinery, which in turn, meets the exact requirements of the clients. The company has a team of highly competent and efficient professionals, who contribute immensely to the growth of the organization. It also boasts of modern R&D centre for new product development and design innovation.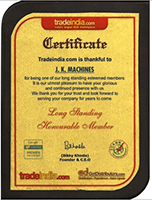 Read More