Laser Welding Machine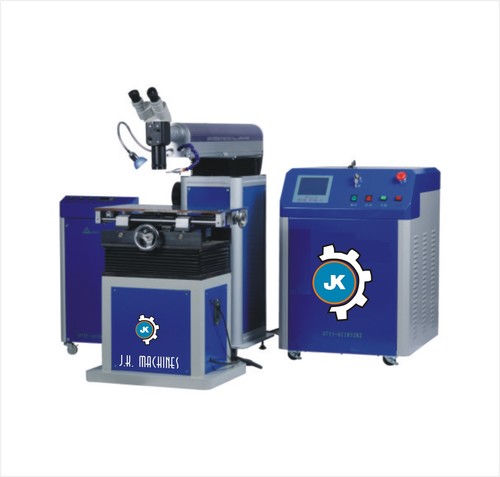 Laser Welding Machine
Price And Quantity
650000.00 - 1200000.00 INR
Product Specifications
Product Description
Laser Welding Machine

Advantages

1. High accuracy, the welding spot diameter is only 0.2mm-0.6mm
2. Little affect area, no distortion of the processing parts.
3. No effect for etch after welding, low oxidation rate ,the color of the processing parts is intact .
4. No stomata or sand hole disappeared after welding.
5. Can process at the welding point, especially applicable to repairing mound requiring polishing.
6. The processing parts can reach 50-60 Rockwell hardness.
Applicable to material and fields
Repair cracks , collapsed horn , touched edge and damaged sealing side, welding on horniness material (~HRC60)
Technical specifications
Model

JK-W200

JK-W400

Average laser power

200W

400W

Max laser power

240W

440W

Max energy of single pulse

75J

90J

Laser wavelength

1064nm

Pulse width

0.3-20ms

Laser welding frequency

0.5 -100HZ

Spot size range

0.2-2mm

Welding wire

0.1-0.4mm

0.1-0.5mm

Power Supply

220VAC 10% / 50-60HZ

Power Consumption

6KW

10KW

Water pressure protection

0.025MPa

Cooling water temperature

35 degrees

Temperature protection

45 degrees

Cooling water flow

10L/min

Dimensional

1000mm x 600mm x 1500mm

Weight

300kg

Cooling Way

Water cooling

Laser Type

Pulse